Media
October 6th 2020 International artists join online gallery, The Royal Gazette, Bermuda
September 30th 2020 Black Pony Welcomes Bridgeman & Brown, https://www.lisahowie.com/post/black-pony-welcomes-bridgeman-brown
January 6th 2017 Bridgeman set for London art debut, Cayman Reporter

August 4th 2016 Bridgeman's Art Bridges the gap between Cayman and UK, Cayman Compass

January-December, 2016 Destination Cayman, In-Flight Magazine

January-December, 2015 Destination Cayman, In-Flight Magazine

11th September, 2015 Cayman's past, present examined in tIDal Shift, Cayman Compass

10th July, 2015 'All Access' goes behind the scenes at National Gallery, Cayman Compass

19th January, 2015 National Gallery of the Cayman Islands presents 'The road not taken', ARC magazine

4th June, 2014 'Metamorphoses' changes the way we view Goya, The Cayman Islands Journal

23rd May, 2014 New art collective exhibits at Camana Bay, Cayman Compass

17th May, 2014 Art Exhibition: C4 – First show for new Cayman Art Group, ARC Magazine

5th February, 2014 Art Basel Miami affirms artists are on the right track, The Cayman Islands Journal

15 November, 2013 A Day In The Life: Artist David Bridgeman, Cayman Compass

1st November, 2013 Auction taps Cayman Artwork, Cayman Compass

13th August, 2013 New artwork by David Bridgeman donated to the National Gallery's Permanent Collection, National Gallery of the Cayman Islands

13th August, 2013 Artist Bridgeman adds to Gallery's permanent collection, Cayman News Service

31st October, 2011 Artists tour Nat. Gallery, The Cayman Compass

4th May, 2011 The Persistence of Memory, The Cayman Islands Journal

6th April, 2011 Space allows artist to think big, The Cayman Islands Journal

8th February, 2011 Artists Expressions: David Bridgeman Cayman27 Daybreak

3rd December, 2009 Bold new artwork from David Bridgeman, Cayman Compass

16th June, 2009 Artists Expressions: David Bridgeman, Cayman 27 Daybreak

7th January, 2009 Exciting new direction for local artist, The Cayman Islands Journal

14th July, 2008 Artistic visions return to Ms Lassie's House, Cayman Compass
The road not taken
By Christopher Tobutt

We've all had the experience: we're sitting somewhere, or walking, perhaps, and something we see triggers a whole series of vivid memories. We may notice, out of the corner of our eye, the way the leaves flutter under the bow of a tree, and there we are again, perhaps aged eight or nine years old, riding our bicycles through the wood in the summer holidays and enjoying our first taste of freedom.

For an instant we are really there, just as if a time-machine has taken us back and we are able to experience the world again through the eyes of the person we once were. When this happens, it is as if we were seeing the thing through two sets of eyes. We are experiencing it as adults, but at the same time seeing too with the eyes of the child, complete with that child's perception of the thing. Physical objects have this magical ability to transport us, to trigger for us a whole trail of memories, replaying something we thought we had long forgotten.

David Bridgeman's exhibition at the Cayman Islands National Gallery explores the interplay between objects and memory and the multiple realities created by the replaying of memory when those objects trigger the part of our brain that holds them. It is about the way landscapes, in particular, affect our emotion, and about the deep attachments we have to familiar landmarks. It is not about the objective truth of those landscapes as trees or clumps of grass or mounds of earth and rock. Rather it is about the way we possess them and make them ours.
But the exhibition is about more than memory. It is also about the choices we make from the things, which those landscapes present to us. Entitled The Road Not Taken, it explores visually, the emotion encapsulated in the poem of the same name by Robert Frost:

I shall be telling this with a sigh
Somewhere ages and ages hence:
Two roads diverged in a wood, and I—
I took the one less traveled by,
And that has made all the difference.

If we take one road, it will stop us from experiencing the other. We don't necessarily know exactly where either will lead, but unless we take one or the other, we know we will be stuck.
This, too, is something we all know about. But what if we were, somehow, able to transport ourselves back in time – to the point where the one road diverged and take the other road instead? What would have happened? Perhaps we would stay the same, deep inside, but the new choices presented by the new landscape we encountered would make us, outwardly at least, different people.

Then again, what would happen if we could experience both versions of 'us'; the version that took our road, and the version that took the other road? Both life stories would exist at once. Imagine one video played over the top of another, at the same time. The one on top doesn't obliterate the one underneath, neither is it invisible; rather it is translucent, so both can be experienced equally, and at the same time.

This quality of translucence is at the heart of Bridgeman's work. Multiple things – influences- don't exist side-by-side, but exist all at once, one overladen with another, and both still very much alive. This is a visual comment on the way memory works, too. Memory doesn't stretch out chronologically like a neat history time-line in an encyclopedia. One day something reminds you of when you were three, the next day, or maybe just a minute later, of when you were a teenager. It is as if, inside you, there are multiple people, stacked together like Russian dolls, each of them seeing the same thing, perhaps, yet experiencing it differently. Some of his drawings show multiple layers – outlines that remain but are overlaid with other outlines. Bridgeman uses translucence as a way of helping us join with him in his creative path, as he refines and distills the essence of the landscape until it finally crystalizes in his own soul.

The exhibition consists of an outer chamber of paintings and drawings reflecting Mr. Bridgeman's home county of Oxfordshire, England, and an inner chamber containing 23 vertical light tubes, composed of a translucent plastic material called Lexan which has been painted on one side and drawn on the other with pen and ink. The tubes represent a recurring landmark in Mr. Bridgeman's work, the Wittenham Clumps, a clump of trees Mr. Bridgeman remembers from his boyhood rambles.

Each of the tubes contains a large painting, which has been rolled up, like a sacred, ancient scroll – a repository of memory. The tubes are each illuminated from the inside, and this means that the overlapping parts of the rolled-up image can be seen at the same time, another exploration of the principle of translucence as a vehicle for experiencing a multiplicity of realities simultaneously.

The tubes collectively surround a central form the artist calls "The Poem Tree," which contains the poem by Robert Frost.
Bridgeman's work essentially, therefore, explores the relationship between the objective realities of a thing - a clump of trees, an old fence on a hill - with the myriad of sacred emotions that we attach to it. It is an exploration of the dialogue between the thing as it is, stark and factual and unforgiving, and the thing as we want it to be when we use it as a magic charm to transport us back to where we once were, or into who we could be now if we had taken that other road.

The first thing you notice about the landscapes is how brutal they are. Huge thistles that look more like giants' clubs loom at you. Hills and trees conspire to look more like a sailors' nightmare of a stormy sea than a pastoral English scene. People, where they appear at all, are diminutive and impotent. They seem to exist in a twilight world where they are at the mercy of their surroundings. Like naughty infants under the watchful glare of a bullying headmaster, they are shy, afraid, awkward and embarrassed. They seem to be trying to hide or run away from the landscapes, which would buffet them and possibly even swallow them whole, like Jonah and the whale. Some wear crowns, yet they are not kings. Rather they are jesters in the court of the landscape that holds them captive.

The landscape does as it wishes. If Adam was given dominion over creation, these landscapes show the result of the Fall. One painting, showing an amalgam of an awful machine, which seems to emerge from the surrounding hills, depicts a pair of uprooted trees looking like hideous detached electric cables. Pylons run like neurons across the back of some terrible industrial uber-beast of a landscape.
Black outlines control and delineate, like a heavy-handed child's drawing. There is no attempt to disguise the artist's process of consciously capturing the landscape. While the landscape is rude and fearsome to those unlucky enough to be trapped in it, Bridgeman uses strong outlines to ensure everybody knows this landscape belongs to him, and he, as artist, is the real king here.

Bridgeman uses two sets of objects: those belonging to the landscapes he remembers from his boyhood home of Oxfordshire, are filtered through the bright light sunshine, along with associations of things belonging to the Cayman Islands, which have been his home for nearly three decades. Like the rest of his work, the two experiences collide intimately by being represented at the same time. The one landscape is experienced immediately through the translucent veil of the other.

But what are all these spiky giants' clubs? They look just like something out of a children's story about ogres and fearsome castles. Yet they are actually depictions of Scottish thistles, and they reappear again and again in his work. Bridgeman appears to be defending his territory, in a very brutal, no-nonsense way.
He's actually saying: "These are my landscapes. They are for me alone. I might let you walk in them – through my paintings – but they are a part of me and therefore you must give them back."

Why so possessive?

Because, a big part of what makes us "us" is our heap of memories. We define ourselves by our store of past associations, and therefore they are valuable. Mess with them, and you mess with our very souls. Each of those associations, while abstract in themselves, is rooted in something real, something concrete. In reality, they may be geographical areas on a map and consist of rocks, soil, grass trees, power stations and pylons. But their greater reality is a subjective one, and that changes for people.

For Bridgeman, they exist as sacred repositories of memory, and his exhibition reflects this, not only by its content, but also by its layout within the gallery. The outer chamber introduces you to the subject matter of the memories. But by entering into the inner chamber, you are invited into his holy-of-holies, the core of his psyche. Here is the artist revealing himself to you.

We will only ever really know another person to the extent that they choose to reveal themselves by what they show us. Even people we have known our whole life have a secret room inside themselves we are not allowed to enter. Perhaps we cannot enter because we cannot understand – these experiences, after all, are theirs and theirs alone. Then again, we only reveal so much because we are afraid. If we laid everything in our soul bare, what would be left if someone chose to trample on it?

Bridgeman, just like the rest of us, is afraid of the same things. But he welcomes us into that secret room. The secret treasures of memory and association are there for us to see. In so doing, we are allowed the highest honor of all: we are granted the one-time-only right to trespass on another's sacred, innermost landscape.

Christopher Tobutt is a photographer and photojournalist/writer living in the Cayman Islands.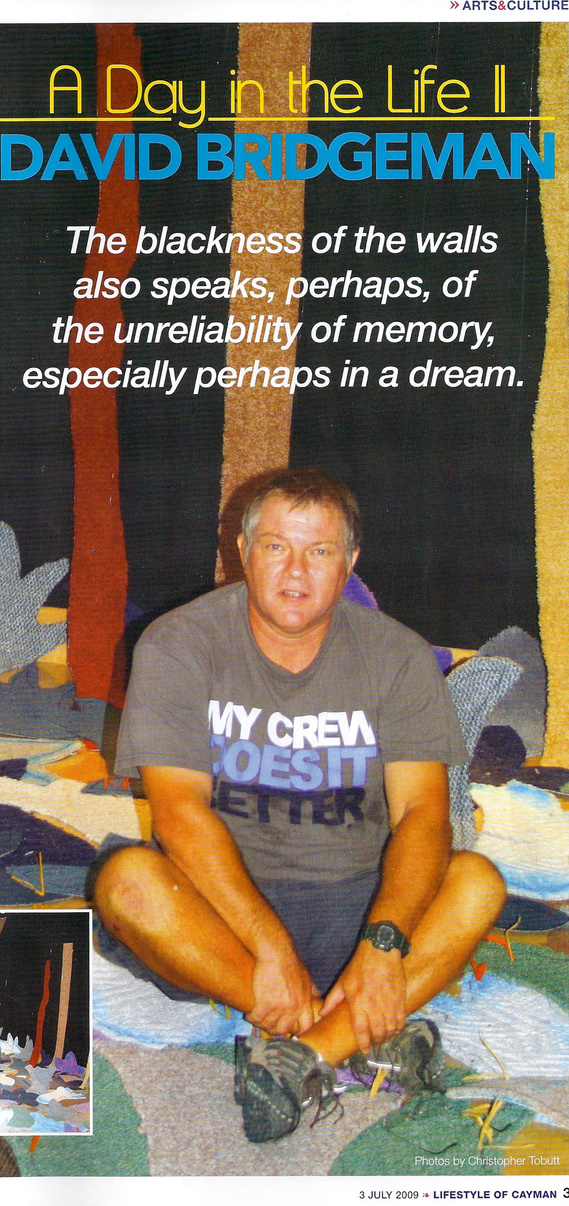 David Bridgeman
By Eme Paschalides

David Bridgeman 's production is mostly autobiographical. His landscapes, notable for their lyricism, their undulating black lines and their bright colours, express a languid nostalgia for childhood scenery and savoured moments; his collages search for meaning in simple shapes and ordinary words; his portraits, which are mostly self-portraits, seek to communicate experiences and emotions rather than physical resemblances, an approach which shows a strong debt to the German Expressionists. However, the comparison stops there: whereas the subjective distortion of Expressionist artists is often the turbulent expression of their Angst, David Bridgeman's paintings, even his most brutal pieces, evoke a calm reflection which seems to study the chaos of the world and order its representation into quiet seriousness, mystery and peace.

The artwork reflects what the man looks like: with his tranquil soft blue eyes, solid shoulders and sturdy build, David Bridgeman makes an impression which is both commanding and gentle. His studio too is at once imposing and welcoming: hidden in a large attic in the centre of town, with no windows, front door or any other sign betraying its existence, you enter it like you enter a secret room or an extraordinary world in a children's book.

Equally, you stumble into David Bridgeman's landscapes like into someone else's universe. They are scenes of elaborately constructed root systems, corridors and trunks from which you might have a hard time finding your way out. The viewer is enveloped in interconnected spaces that occasionally give clues about the places that have inspired the work – landmarks such as a cliff or a red birch tree.

One painting, shown at the National Gallery of the Cayman Islands in 2007, includes a rain gauge among trees. Perhaps because the horizon is mostly concealed, preventing the viewer from judging the distances and relationship between different volumes, one senses that the moment has been captured when an extraordinary event is about to happen. The contorted trunks seem to dance like flames reaching out for air. Are they happy or menacing? Is the rain gauge sending a warning of something approaching? Will it be drought or flood? What exactly is the measure of the event we are invited to witness? We don't know but nonetheless, as in all other works, we sense that if the rain comes, it doesn't matter. The confident brushstrokes suggest that the artist can control how and when, like the direction of his running paint.

Usually, a landscape is considered the most agreeable artistic subject, for it chooses to represent beauty in nature. David Bridgeman's landscapes, however, celebrate the grotesque as much as prettiness, daring to represent mundane but eye-catching road signs, like black and yellow striped chevrons in Queens Highway, 2005, or the electricity cables stretched between pylons along a road in One Point One Mile. Typically, these compositions balance a turmoil of colliding shapes and lines with empty spaces, which can abruptly lead the painting back to its earliest stages; a bare canvas, construction lines or the artist's scribbled notes to himself.

As the titles of many of these works show, central to David Bridgeman's art is the theme of solitary walks through nature and of escape. It was therefore a perfectly logical stage in the artist's development finally to create an installation, a three dimensional landscape into which the viewer could walk. In 2009, the National Gallery of the Cayman Islands gave him this opportunity, inviting him to be the artist in residence. Daring to interfere with the space and architecture of the gallery, David Bridgeman playfully manipulated and suspended large pieces of carpet of various blue shades and textures to stage a forest. The intention was to recreate the feeling of wonder the artist had experienced as a child when he discovered a 'carpet' of undisturbed bluebells in the serene woodland. Recycling old materials is to make the past present, to make the old new and this installation attempts to recreate a universal land where geographical and time dimensions are transcended by the human emotions and reflections. Not everybody thinks he succeeded: many fellow artists thought the work nonsensical. One of them, sneering at his show, said that the installation signalled the end of his artistic career. That's because David Bridgeman wrestles with the meaning of his own work more than any other Caymanian artist. When he makes art, he is not interested in making pretty pictures but in reaching something, somewhere. There is no doubt that when we look at Bridgeman's compositions, we are in front of spaces that have been strongly defined for a purpose, and that the forms – and deformations – do not reflect a topographical space, but an inner space. But what is David Bridgeman looking for in that inner space?

Identity, or the questioning of his identity, is probably the focal point of Bridgeman's artistic development. If at its core, there is an interest in transferring real life experiences into the context of art, they are generally experiences characterised by his sense of displacement. In his exhibition 3-5 minutes: On how to make the perfect cup of tea, the works reference his British roots with humorous sensibility. Viewers to these works are provoked to question their perception of people according to their culture, the prevalence of cultural clichés in our society and the role that these cultural clichés play in defining who we are.

Another equally powerful piece called If anyone knows why I shouldn't, made for the National Gallery's exhibition Arreckly:Towards a cultural identity in 2007, was a giant black and white series of photos of the artist, meant to copycat the photos of offenders taken by the police after they are arrested. Despite, or because of, its blown up size, the piece cleverly created a claustrophobic sensation in the viewer. It was meant to comment on the then current practice in the Cayman Islands of publishing your photo when you applied for permanent residency, portraying this as an ordeal that stripped you of your real identity, was dehumanising and distorting.

The human form is scarce in David Bridgeman's work: occasionally the artist includes the shadow of walkers – mostly ghost-like silhouettes or even just footprints, or he allows us to glimpse a distant civilisation through the collages of paper clippings. There is one enigmatic figure, however, which makes intermittent appearances through the oeuvre, always wearing an eccentric hat, which sometimes resembles a crown, sometimes, a jester's floppy bonnet: is it a king or a clown? A mad man or a wit? The writer Salman Rushdie wrote in The Satanic Verses that 'we strive for the heights but our natures betray us…[we are] clowns in search of crowns.' Is David Bridgeman making a humble statement about his confidence in his artist's magic tricks? About art's power to transcend our human nature? Or is this joker simply playing a 'Where is Waldo?' game with us?

In 2010, David Bridgeman was diagnosed with cancer. One would think that this near-death experience would drastically change his way of perceiving the world, and thus his way of painting. But death and the passage of time are themes that were always present in the artist's work. Six years before his illness, David Bridgeman had painted 'A Woman in Red' for the Cayman Islands Cancer Society, in which an enigmatic feminine figure is seated in the centre of the canvas, her outline seeming to hang like an empty dress, her face as bleak as a room cleared of its furniture. Again in a 2005 series of collages, the artist explored the poetic imagery of the green light – another commentary on the transience of life. Flowers, rain gauges and trees can also be interpreted in the same way, although it is debatable how much and how seriously the theme of the ephemeral is implied in all these earlier works.

After his illness, however, David Bridgeman became more explicit. After recovering, the artist painted The Last Tango, a striking self-portrait in which he uses the direct symbol of a skeleton to paint his struggle to remain alive. Using what has by now become an iconic element of his artistic vocabulary, the artist shows the skeleton in the jester's hat. Remembering that in medieval representations, death was often shown in the fool's motley outfit, we now understand that the game we are playing with this joker is a sinister one. We understand that death is a truth, a part of nature and a constant feature of our landscape. When David Bridgeman wears his hat and signs his name with a crown, he reminds himself that 'Death always has the last laugh'.

Emé Paschalides
French national, Emé Paschalides is an active art critic who received her Art degree from ICART, the only Art Business School in Paris. She has also studied at the Sorbonne in Paris and the Art Students League of New York.