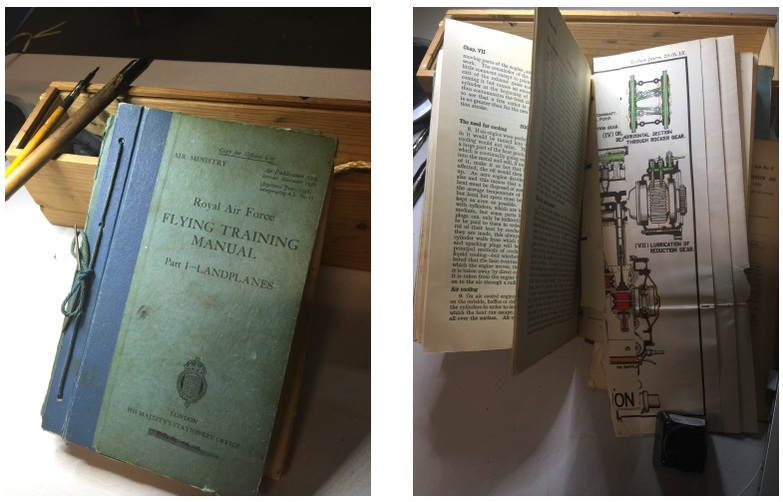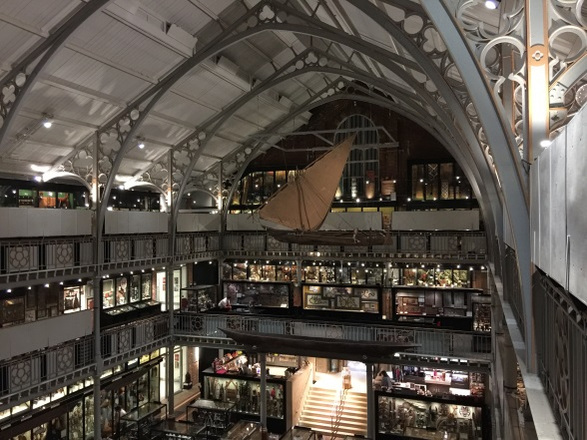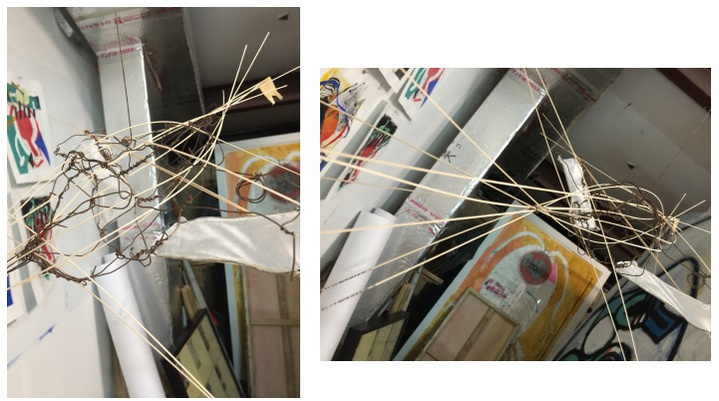 October 17th, 2016

Pegasus originates from my father's old flying manual - a reference book used for his gliding lessons whilst completing National Service after World War II. It's a book I am very familiar with as it was well-thumbed by me as a 6 year old. It is full of wonderful mechanical drawings colored with greens, reds, and yellows. Pegasus has grown from this book. It is an imaginary flying machine collaged from the various engineering drawings and lubrication charts.

Pegasus is built using thin modeling wire and tissue. The Mark II version is now taking shape and features the addition of balsa wood, a material that I used a lot at primary school. We had weekly balsa wood classes and made all kinds of objects from pipe stands to football clackers. Pegasus also combines elements from the magnificent boat structure which can be found hanging from the ceiling and others in tall glass cases at the Pitt Rivers Museum in Oxford. As a young child, I thought of them as magical flying boats.
I love Pitt Rivers and spent hours as a young boy working through the many drawers filled with bizarre and wonderful objects attached to tiny tags written in beautiful italic ink from either a quill or fountain pen. Italic writing lessons were also part of my primary school curriculum. Death and the afterlife pervades at almost every twist and turn around the glass curio cabinets; the atmosphere heightened by the low-level lighting, gothic roof structures, and other archaeological and anthropological exhibits.
I've come across two other artists who have also been influenced by The Pitt Rivers Museum. Marina Abramović is currently at Modern Art Oxford with the work 'Cleaning The Mirror I', consisting of a stack of video monitors each displaying a section of a skeleton being scrubbed clean by the artist. In this piece of work performed at the Pitt Rivers Museum, she confronts her own mortality and forces viewers to confront their own.
https://www.youtube.com/watch?v=ROpzkh40Lmk

Salman Rushdie was the keynote speaker at the American Museums Conference in Chicago in 2007. He spoke of the power of actually seeing an object in a museum rather than a reproduction and how museums put the power of knowledge into the hands of the people. He also spoke of his personal debt owed to museums such as Pitt Rivers, for the inspiration they have provided for his writing.

My own work, albeit more modest in scale, embodies all the sentiments of Rushdie and Abramović but is time-specific. It comes from a post World War II Britain with bright beacons of industry flourishing; the car plant at Cowley, Oxford where my father worked; the Didcot Power station, which I could see from my bedroom window, providing electricity to thousands of new homes and businesses.

Those beacons are now lost.

Pegasus MK II under construction